BEYOND THE BLACK, Mister Misery, Exchange, Bristol, 29 October 2019
"You'll like the support band," a bloke in the queue was overheard telling his mates, "the singer's very much like Alice Cooper." I'm guessing they were in for a big surprise, as Mister Misery's frontman Harley Vendetta is nothing like Alice Cooper, unless the punter in question was referring to a lass from the local chippy who does karaoke. The Swedish four-piece trade gutter-goth riffs with a punky vibe and strut their stuff as a schlock-rock, make-up and tatts, lock-up-your-daughters nightmare. Culling nine cuts off their just-out debut album 'Unalive' to an unaware audience was a brave move, but the generally short, catchy numbers won over even the most ambivalent in the crowd and by the end of their set they pretty much had a full house in attendance.
Beyond The Black had no need to win over the crowd – this was their audience and Jennifer Haben, Chris Hermsdörfer, Tobi Lodes, Stefan Herkenhoff and Kai Tschierschky had little to do but let go and enjoy themselves. The band started their first ever UK tour in Bristol, as support to Saxon in November 2014, so it seemed appropriate to kick off their first UK headlining trek some five years later in the same city. With three albums now under their belts Beyond The Black had a wealth of material to choose from, and delivered an hour-and-three-quarter-long set with a wealth of energy and passion: enthusiasm was one thing that the band collectively did not lack on the night. Haben is an engaging and endearing frontwoman, and even if her English is a bit stilted she throws herself into every song, while to her left the larger-than-life lead guitarist and occasional cookie-monster vocalist Hermsdörfer performed like a man possessed.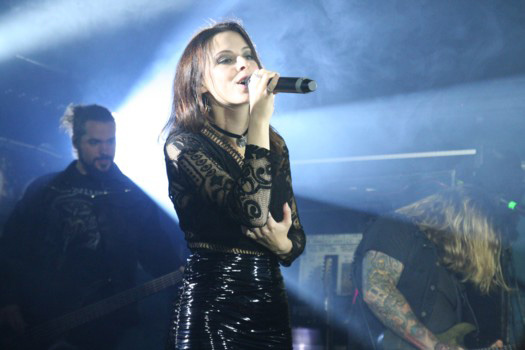 It's Haben's show though, and the three-track acoustic interlude (which required the comedic touch of the road crew trying to set up her keyboards on a postage-stamp sized stage while the band romped through the closing stages of 'Dear Death') might have showcased her piano skills but dragged down the pace and pushed things into wholly generic territory. The fact it gave way to a drum solo made matters worse. Kicking back into gear with though with 'Misery' was definitely one of the set's highlights, and the encore of 'In The Shadows' took off what was left of the Exchange's roof.
©John Tucker November 2019