BADGE OF HONOUR – Badge
Famous for their sole 7" 'Silver Woman' b/w 'Something I've Lost' on the short-lived Neat imprint Metal Minded back in 1981, Badge resided for many years in the Missing In Action file. High Roller Records issued 'Stormrider', a retrospective compilation in 2012, but things began to gear up in earnest the following year when Badge performed at the first Brofest post-NWOBHM festival. The band have now self-released 'Supernova', their first 'real' album, which appeared as a CD and download in April.
"I suppose you could say 'Supernova' started really at that first Brofest in Newcastle," begins frontman and only original member Graham Waudby. "Me and Baz Gregory, our bass player, decided to keep the band going – well, we had little choice after the great reception we had from the multi-national audience who loved seeing us onstage once more. For us, it had to be more than just a one off re-union gig as we'd got the band bug again, and our song-writing partnership started there. Badge hadn't recorded any really new stuff apart from 'Natalya From The Volga' on the 'Stormrider' album, a song about a girl on the wrong side of the Berlin Wall, but nothing of note since 'Silver Woman' in '81. So we decided to write a new album – the first Badge album of mostly new material."
'Supernova' is a really catchy, exiting album, with a clutch of strong songs and some fabulous work from Badge's new guitarist Florin Huluba. "Florin is a nice guy and excellent musician," says Gra. "He's fitted in so well with Badge and our brand of music, he has boundless enthusiasm, and an extensive knowledge of music. I liked him straight away. And he looks and plays like a rock star, too. He has a great imagination and works really well with Baz on bass; between them they have created the backbone of this album. I came across him on a musicians' website. He had moved from Romania to the UK and was looking for a band. We got together at my house, jammed, talked and hit it off straight away. He's very talented, eager and, as I said, works really well with Baz."
Finding a drummer proved less simple, though. "Unfortunately, there are limited resources as far as musicians go in our area so we have found it hard to get a drummer to stay with us. We thought we had found a great drummer in Vesso from Bulgaria but his business and family limited his time with us. We played a couple of gigs with him, and he played on the YouTube videos of the tracks 'Dogs Of War' and 'Cry In The Night', new songs for Badge [both of which appear on 'Supernova']. Mikey Bolton of Power Stage Studios in Yorkshire, where we recorded the album, laid down the drumming on 'Supernova' for us. So Badge 2020 are me, Graham Waudby, on vocals, Baz Gregory on bass, Florin Huluba on guitar, and Mikey Bolton on drums."
The aim behind writing and recording 'Supernova' was, according to Gra, "Really to put Badge back in the spotlight again, and hopefully to gain some recognition for Badge's music once more. It's a really satisfying thing to produce something original that the general public take to their hearts and enjoy. It's the essence of entertainment, hoping people love what you do music-wise, and if it pleases one of our fans it has been worthwhile. That said, 'Supernova' seems to be a really well-received piece of Badge music. There's no better accolade in the music business than that. So I do think we achieved what we set out to do. I know when something is good, and we all think 'Supernova' is special. In my mind it's a great album. But we worked at it – we paid particular attention to avoid repetition in the music, the lyrics and the content. I did not want to fall into the category of producing an album with a couple of good tracks and then compile the rest of the work with mediocre album fillers. There is something for everyone in our new album."
'Supernova' boasts a couple of songs that older fans might recognise... "Yes, well spotted," Gra cuts in. "The track 'Blizzard' goes right back to the very early days of Badge. We wrote it at the same time as 'Silver Woman', the 1981 single, so it's a really old song but it was never recorded properly in its intended form as a grinding heavy song. It started life on an old four-track demo tape in Ken Giles' studio, and a rendition of it appears on the 'Stormrider' album but it is quite unrecognisable from the original song. The recording of 'Blizzard' on 'Supernova' is exactly as it should be heard, and I'm quite pleased with it. And 'See Me Gone' was originally recorded as a demo at Animal Tracks Studio in Hull. In a similar way it's a track which has benefitted from the same approach, as it's a great song which had never been recorded in, let's say, a serious manner. And the bonus track on the album is a rendition of 'Finding My Way' which was not intended to be on 'Supernova' at all, as it's already on the album 'Stormrider' in its original form as a heavy melodic rock song; but we thought it would make for a nice, chilled-out sound to finish the album. I love it," he adds. "The rest of the tracks are all new, though, and have been written specifically for 'Supernova'.
When asked to pick out some personal favourites from the album Gra stumbles a little. "It's hard to choose really, because all the tracks have a meaning and memories for me, and there's a variety of themes, both melodic and lyrical – war, peace, betrayal, motorbike gangs... But I suppose the coolest song for me is 'Valkyrie' which, as the name suggests, has a Viking / Norse link and is a re-engaging with the spiritual gods and goddesses of my forefathers. It appears my DNA has rather a large amount of Danish signature in it. The Valkyries were female deities who chose the best of the slain warriors on the battlefield and took them straight to Valhalla, the hall of the fallen, where they could feast and fight till they were needed for the final battle of Ragnarok. And then there's the title track, 'Supernova', which is inspired by my interest in science. I studied Earth sciences and geology with the Open University, and, also, professor Brian Cox is a hero of mine. He would understand this song, how we are made from stellar dust and gasses born in a dying star's dramatic ending, a supernova. The narration aspect of the song, by the way, was inspired by the 'War Of The Worlds', narrated by the great Richard Burton."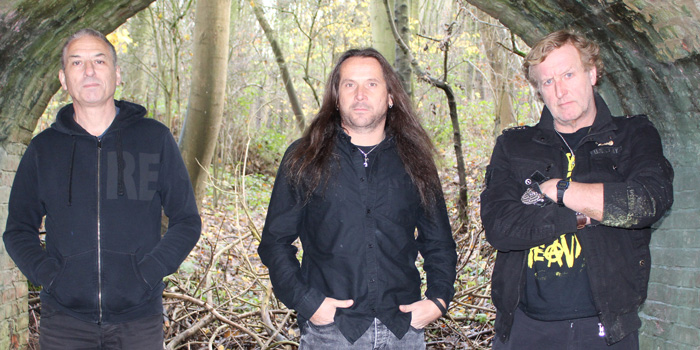 It's good to know that this isn't just a studio project; if you've seen Badge onstage you'll know what a great live band they are. "As the lyrics in the track 'Supernova' say, it's 'a kind of re-birth'," Gra acknowledges. "Hopefully this album will put us back on the rock map again, and get us some recognition. There's a multitude of fans of our music, both new and old, especially across the sea in Europe, be it Germany, Poland, Italy, Belgium, Holland or Greece. This album has rekindled an interest in us and I'm hoping that it will snowball onto bigger things. We are back, and hopefully once this virus thing ends we can get rehearsing and get ready for some live action. Badge onstage again – back where we belong."
Find out more at https://www.facebook.com/badgeofficial/
© John Tucker May 2020