THIS WEEK I'M LISTENING TO...THE NIGHT FLIGHT ORCHESTRA Aeromantic (Nuclear Blast)
I have a friend who said something like, 'I didn't like ABBA and Boney M in the Seventies, and I don't like them now, even if Nuclear Blast have repackaged them.' Now, whereas that's a bit harsh on The Night Flight Orchestra, it's true that the poptatstic Swedes have tapped into the simplicity and melody that make a great commercial song and worked out how to re-present it to a melodic rock audience. The fact that they've done so with an overwhelming quantity of flamboyance and confidence has turned a side project into mainstream metal icons, doing for humming, toe-tapping tunes what Ghost have done for facemasks and Satan, and gained them a couple of Swedish Grammy nominations along the way.
'Aeromantic' – the band's fifth album – continues on the same (flight) path as its predecessors. It's catchy and fun, although the downside is that there's precious little new to the formula. As such 'Aeromantic' doesn't have the immediacy or impact of its forerunners, breakthrough album 'Amber Galactic' in particular, and there's a feeling that you've heard it all before. You have to wonder if the band are on auto-pilot at times and, if so, where Captains Strid and Andersson and their crew will take things from here. That said, though, it's still a hugely enjoyable body of work and, as ever, the band are at their best when they've hit take-off speed: songs like the aeronautic opener 'Servants Of The Air' really hit the spot, as does the singalong 'Sister Mercurial' and disco diva 'Transmissions', which is surely the just a reworking of the Bee Gees' 'Tragedy'...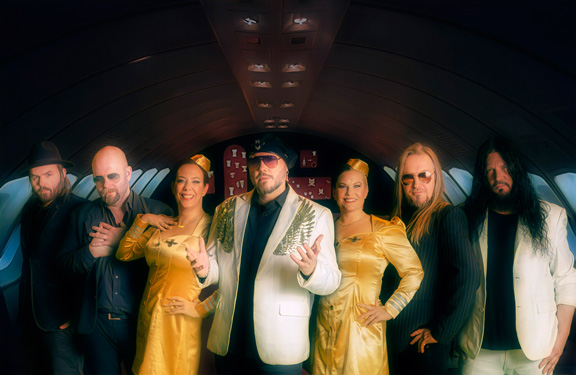 The image, the clothes, the synths, the backing singers... It shouldn't really work in this day and age, seemingly all belonging to a bygone time (and maybe even a wholly different genre) but the fact that The Night Flight Orchestra are an anachronism makes enjoying their albums even more pleasurable. If you like the back catalogue 'Aeromantic' will satisfy your craving for smooth-as-silk pop-tinged metal, but if the previous outings have left you cold then this latest offering is unlikely to change your mind. None of this will sway my friend, of course, but that's his loss. I'm just going to buckle up and enjoy the ride.
© John Tucker March 2020