Reviews Round-Up July 2021
• NIGHTWISH – 'Once'
• NEMOPHILA – 'Oiran – Extended Version'
• PARADISE LOST – 'At The Mill'
• QUARTZ – 'Satan's Serenade / Nantucket Sleighride'
• DARKTHRONE – 'Eternal Hails'
NIGHTWISH have a spruced-up version of their 2004 album 'Once' (Nuclear Blast, 6 August) ready to hit the racks. The band's fifth album, the last to feature singer Tarja Turunen, is still listed as their most successful release, with 2.3 million copies sold so far, and features a number of the band's best-loved songs, including 'Nemo', 'Wish I Had An Angel', 'Ghost Love Score' and 'Dark Chest Of Wonders'. The worldwide sales figure is set to increase dramatically when the revamped version appears.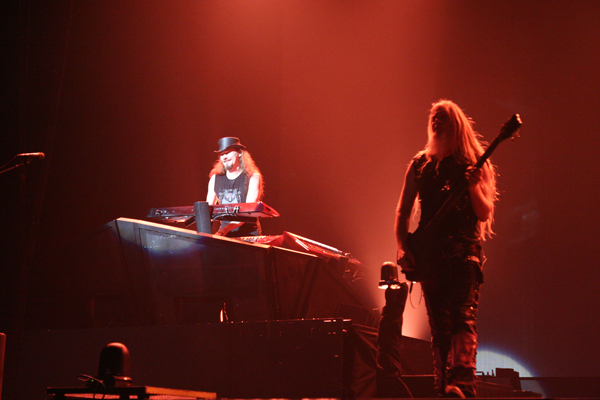 There's a straight vinyl pressing and a digibook CD with a bonus instrumental version of the album, but the one to get your mitts on is the four CD earbook, which includes the band's set from the Taubertal festival in Germany on 14 August 2005 on one disc as well as another containing demos, rarities and assorted odds and ends. It's a short pressing of just 3,500 copies though (and the set which features a pair of double LPs and the four CDs is even more limited, and even more desirable) so if you want it, reach for your credit card now.
Formed in just 2019, but with a collective wealth of experience between the five musicians, Japanese quintet NEMOPHILA have dipped their toes in the global market with 'Oiran – Extended Version' (JPU Records, 25 June). With eight tracks despatched in 39 minutes the album is no longer than the average Seventies' LP, and is basically a compilation of their three domestic singles ('Oiran', 'Raitei' and 'Dissension') and B-sides, together with an English language version of 'Dissention' to round things off. It's easy to get fixated upon the frenetic power metal side of the band, so beloved of a lot of similar Japanese acts, but there's more to vocalist mayu, guiatrists SAKI and HAZUKI, bassist HARAGUCHI-SAN and drummer Tamu Murata as the choice of tracks ably indicate. 'Dissension' and 'Raitei' are certainly frenzied juggernauts, all crashing chords, flailing drumsticks, and expressive and knuckle-cracking solos, but elsewhere songs like 'Life' and 'Sorai' show that the band know how to come up with snappy and accessible material.
The English language version of 'Dissension' doesn't really add much, to be fair, except as a sop to people who think that's how metal should be sung. A great band is a great band whatever language they perform in, and Nemophila are a great band. Definitely one to watch for the future.
'Dissension': https://www.youtube.com/watch?v=26aMuahxz8c
With their plans for 'Obsidian''s album launch event scuppered last year by you-know-what, PARADISE LOST are another band who took a right turn into Live Stream Avenue. The amusingly-titled 'At The Mill' – 'At T'Mill', surely? – (Nuclear Blast, 16 July) is the soundtrack and footage (depending on your choice of media: either vinyl or CD/Blu-ray) of the event which was originally livestreamed from The Mill nightclub in Bradford on 5 November last year. Like the majority of these audience-free events the environment is austere and sterile, and the atmosphere pretty much non-existent, but on the night the band still delivered a weighty performance with panache and professionalism with really brings this release to life. And just look at the setlist: the new songs from 'Obsidian' ('Fall From Grace', 'Ghosts' and evening closer 'Darker Thoughts') all nestle nicely amongst a romp through the band's history with the likes of 'Faith Divides Us – Death Unites Us', 'As I Die', 'Widow' and 'One Second' all flying the flag for their extensive and seemingly never-aging back catalogue.
'Darker Thoughts': https://www.youtube.com/watch?v=A7KNP78xiMY
DARKTHRONE's nineteenth offering 'Eternal Hails' (Peaceville, 25 June) follows the adage 'plus ça change, plus c'est la même chose'. It's recognisably the work of Nocturno Culto and Fenriz, but this time around the lengthening of the songs, a process that's been emerging over time, means that the pair present just five tracks in forty-two minutes. OK, so 'Tales Of Topographic Oceans' it's not, but it's a far cry from 1991's debut album 'Soulside Journey' and it does give the musicians a great deal of space to breathe life into the songs, meaning that the five cuts on offer are both beautifully developed and intricately adorned. Whether by accident or designed the album is neatly balanced too – the opener 'His Master's Voice' and closer 'Lost Arcane City Of Uppakra' both clock in at seven or minutes, the second and fourth tracks ('Hate Cloak' and 'Voyage To A North Pole Adrift') both pass the nine-minute mark, and the centrepiece and personal highlight 'Wake Of The Awakened' is eight minutes or thereabouts: it doesn't help in the slightest if the term black metal gives you sleepless nights, but it does lend the album an interesting and dynamic equilibrium.
A real collectors' item comes from Golden Core / ZYX, who've have issued a limited edition 12" EP by Birmingham's QUARTZ. 'Satan's Serenade / Nantucket Sleighride' (2 July) does exactly what it says on the tin and combines two great singles: 'Nantucket Sleighride' and its flipside 'Wildfire', originally released on the Reddington's Rare Records label in 1979, and the three tracks from the following year's 'Satan's Serenade' 12" – the title track and 'Bloody Fool', and a remixed version of 'Roll Over Beethoven' taken from their 'Live Quartz' LP. Originally known as Bandylegs, the band date back to 1973 and so pre-date the NWOBHM by a considerable margin, yet they came to the boil at just the right time to be associated with the genre as well as perhaps a tad bemused by it. "We weren't sure how that came about, to be perfectly honest," says Malcolm Cope. "We kept going through the punk thing which put a real dampener on heavy rock. (We always classed ourselves as rock – heavy rock/metal – because from about 1977 onwards 'metal' crept in...) A lot of the writers back then were giving us a bad time because they had latched onto punk and regarded us as old school... But having said that, we kept going, we just kept playing; we'd got certain gigs we could fill in certain parts of the country no matter what we did and that kept our name bubbling... And then the New Wave Of British Heavy metal thing slowly crept in. We never quite understood back then, but, when I listen to that live album and listen to how fast we were playing things, I can understand being associated with the New Wave Of British Heavy Metal because most of that stuff was quite fast too." Quartz never really got the breaks they deserve, yet this release shows just what a fantastic great band they were – and still are, as some more recent releases are happy to demonstrate. Even if you have the original singles, this is really worth hunting down.
Finally, Bitches Sin guitarist and solo artist Ian Toomey now co-sponsors the Power Hour rock show on CandoFM. The show takes place on Sunday nights between 6pm and 7pm, so if you live in or around the Cumbria area, check it out. For more information go to www.candofm.co.uk
© John Tucker July 2021