THIS WEEK I'M LISTENING TO...SAXON The Eagle Has Landed 40 Live (Silver Lining)
Forty years... It's hard to believe that it's forty years since Saxon's self-titled debut album appeared in a blaze of apathy back in the spring of 1979. I can't say I remember it like yesterday because (a) I don't and (b) like many later converts, it didn't even register: I think it was The Friday Rock Show session in February 1980 that first alerted me to the rumblings in Barnsley.
But to commemorate this achievement, and in a nod to Saxon's first live album, 1982's 'The Eagle Has Landed', 'The Eagle Has Landed 40 Live' delivers forty tracks, one for each year since 'Saxon' first appeared in the shops. Served up as a sumptuous triple CD, a gargantuan box set, or an even more gargantuan box set 'The Eagle Has Landed 40 Live' has been compiled from fifteen gigs recorded between 2007 (the first gig in the set is Sheffield, 26 January ) and 2018 (Manchester, 21 October) over eleven locations, although the majority of the material comes from gigs in Germany. The entire second CD, for example, is given over to songs recorded at the Bang Your Head festival in 2013 and Wacken the following year, but that's no bad thing given that in the days of slim pickings it was Germany that kept the band's legacy alive. Whatever format you plump for this is an amazing treasure trove of goodies, plundered from the albums they were touring at the time with the usual complement of older riches too, and ably demonstrates the old 'plus ça change, plus c'est la même chose' adage: the more Saxon have evolved over the years, the more they've re-inforced their core values and individuality; even without Biff's unique vocals it's pretty easy to spot a Saxon song, such is their identity.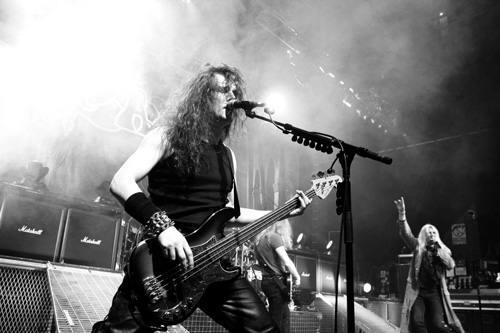 The material comes thick and fast and, unusually for Saxon, a handful of special guests make their presence felt in the shape of Phil Campbell on a rollicking version of '747 (Strangers In The Night)', producer and guitarist extraordinaire Andy Sneap plays along to '20,000 Ft.' and Fast Eddie Clarke helps Byford, Quinn, Scarratt, Carter and Glockler demolish a cover of 'Ace Of Spades'. I'm no expert, but as far as I can see only one track from the forty on offer has been issued before, and that's 'They Played Rock And Roll', a version from Stockholm which appeared on the 2019 Record Store Day 'Thunderbolt' singles box set.
If the is one tiny, tiny criticism, it's that it would have been nice to have had just one track from 'Saxon', to bridge the years between then and now. But maybe that's because I'm just an old sentimentalist...
© John Tucker August 2019