STORMTROOPER – Pride Before A Fall – The Lost Album (Bristol Archive Records)

Famous for their sole, highly-prized 1980 single 'Pride Before A Fall' Stormtrooper battled their way out of the arse end of Bristol at the height of the New Wave Of British Heavy Metal to record an album's worth of material over three sessions. Lack of management and internal shenanigans led to the band's untimely demise before 1981 was out, but thanks to founder member and bassist Colin Bond the guys at Bristol Archive Records have pulled together the material from those sessions to compile a cracking nine-track work-out.
Like so many other young bands the roots of Stormtrooper lay in school friendships, and like so many other young bands they struggled to maintain a stable line-up in their formative years; but just before rocking up at Crescent Studios in Bath in March 1980 Bond, guitarist Bob Starling and drummer Nick Hancox had recruited singer Paul Merrell and in doing so achieved their definitive roll-call. Merrell's immediate impact was to hastily come up with the lyrics for 'Still Comin' Home' just prior to the session, and in doing so secured his first writing credit on the single's B-side. Two further sessions followed in 1981 and as you listen to the tracks on offer you can hear the band's development, both musically and in terms of confidence.
Naturally both 'Pride Before A Fall' and 'Still Comin' Home' put in an appearance, but it's easy to see why they were culled from the first session for a single as they're probably the most accessible and direct songs the band had in their arsenal at the time. With moogs and time changes aplenty, the majority of the material proudly boasts an homage to Rush and although there's not a working man nor a truculent tree in sight the twelve-and-a-half minutes of 'Battle Of the Eve' and the shorter – eight minute! – 'Confusion' could easily sit on 'A Farewell To Kings' as they twist and turn through a maze of well-executed riffs and solos. On the other side of the coin, 'If It Takes A Man A Week To Walk A Fortnight Then How Long Is A Piece Of String' is as NWOBHM as it gets and is done 'n' dusted in as much time as it takes to say the title.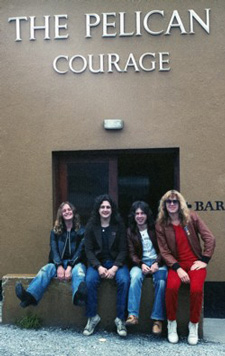 Had Stormtrooper had management or the wherewithal to up sticks to London, they could have been genuine contenders; this was a band of enormous potential, bursting with great songs and masses of talent. But life can be extremely unfair at times – and no more so than the music business – and the band eventually gave up the struggle and called it a day. Merrell probably had the most immediate and high-profile career, joining Jaguar in time for 'Axe Crazy' to kick-start the speed metal boom; Bond hooked up with Lautrec's Archers in Stampede, and when they hit the buffers joined Bernie Tormé and has since carved out a profession touring with the likes of Meat Loaf; and Starling would later re-appear in Hunted, another Bristol band which never really broke out of the city but which along with the likes of Devious and Brabazon spearheaded a mini-rock revolution in the neighbourhood in the early Nineties.
Throw in some highly informative sleeve notes from Bond and what you've got is a great album eulogising a great band. Oh yes, and the cover shot comes from a gig at the Pelican in Torquay where a few years later my stag night ended in a drunken 'gunfight' with squeezy tomato ketchup bottles. And a ban. What's not to like?
© John Tucker August 2016
For more information on the work undertaken by Bristol Archive Records go to www.bristolarchiverecords.com