Reviews Roundup December 2021
• SKID ROW – 'The Atlantic Years 1989-1996'
• SMITH / KOTZEN – 'Better Days'
• THE OCEAN – 'Phanerozoic Live'
• MANIMAL – 'Armageddon'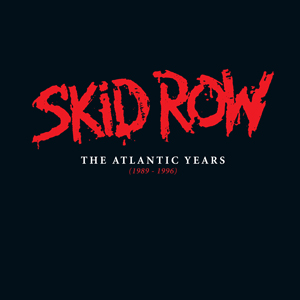 Despite the fact that they've got thirty-five years on the clock and are still going strong, for a lot of people SKID ROW aren't Skid Row without hyperactive frontman Sebastian Bach, who, face it, was actually only with the band for the first decade or so. A five CD or seven LP box set 'The Atlantic Years 1989-1996' (BMG, 3 December) revisits the glory days of the finest band from New Jersey, rounding up the three albums released by the Affuso / Bach / Bolan / Hill / Sabo line-up and adding the five-track 'B-Sides Ourselves' covers EP and the 'Subhuman Beings On Tour!!' live mini-album, released in Japan but primarily recorded at London's Astoria. Skid Row were huge in the UK – all three albums went Top 20, with 'Slave To The Grind' hitting No.5 – and a fabulous band to watch onstage. A retrospective such as this is badly overdue.
Video clip – 'Delivering The Goods' (live, with Rob Halford): https://www.youtube.com/watch?v=KXzz8LkVEHs
SMITH / KOTZEN's much-lauded debut album appeared in March, and this has been followed up by a four-track 12" EP entitled 'Better Days' (BMG, 26 November) which is being released in conjunction with international Record Store Day's Black Friday event. (No, I don't know, either.) Two of the songs – the laid back 'n' groovy 'Hate And Love' (which wouldn't have been out of place on a Seventies' Bad Co LP) and the more forceful 'Rise Again' – were recorded on Turks And Caicos last year, and are presumably hold-overs from the album. The title track, which to these ears is gloriously reminiscent of Glenn Hughes' solo material, and the heads-down 'Got A Hold On Me' were recorded earlier this year, when Adrian Smith and Richie Kotzen were able socialise – and play guitar together – once more. From start to finish the whole thing is a guitarist's dream, but above that the songs are beautifully crafted and expertly played, and a masterclass in songwriting for all to enjoy. What's not to like?
Video clip – 'Better Days': https://www.youtube.com/watch?v=kG1I7UTPl9o
Coming at things from a completely different angle are German progressive metal act THE OCEAN, whose preferred way to beat the lockdown blues was to livestream their last two albums at two different events: the soundtrack to these shows is what's on offer on 'Phanerozoic Live' (Pelagic Records, 26 November). The first disc or LP features 'Phanerozoic I', recorded live at Bremen on 25 March and capturing The Ocean as they are in a live setting, albeit short of an audience. The band then went back to rehearse 'Phanerozoic II', originally released in September 2020 at the height of the pandemic, and recorded it in a more intimate live-in-the-studio setting for airing as their contribution to Roadburn Redux, the famous festival's coronavirus digital version, in April. Despite being very different in approach, both shows are ambitious and stimulating as the band recreate the albums with freedom and spontaneity and the added adrenaline of performing: check out the power in the Katatonia-esque 'Silurian' from the Bremen set. 'Phanerozoic Live' is available in various formats on CD and triple vinyl (some of which feature a DVD of the shows as well).
Video clip – 'Devonian: Nascent (Live I Bremen)': https://www.youtube.com/watch?v=fb2gjDGulsM
Bringing things back to the straight and narrow come MANIMAL. The Gothenburg four-piece show no sign of slowing down and their fourth full album 'Armageddon' (AFM, 3 December) is a full-on, honest-to-goodness metal banquet. Stripping away the band's face paint and skulls reveals that Messrs Boufadene, Holmqvist, Stenroos and Nyman are haunted by the spirit of Judas Priest which invites itself to the feast like Banquo's ghost. But it that a bad thing? No. Of course not. So, while 'Path To The Unknown' is a nod to the more commercial side of things, and the atmospheric 'Slaves Of Babylon' with its hacking intro riff and neck-breaking refrain ticks a lot of boxes, the likes of 'Master Of Pain' and 'Evil Soul' rock hard and ride free. The band never lose sight of the need for melody and hooks though, the guitar work is exquisite and Nyman's vocals are a joy throughout.
Video clip – Burn In Hell: https://www.youtube.com/watch?v=eAlsHJqs9qY
© John Tucker November 2021