IAN TOOMEY – Masters Of Light (Independent)
In August 1980 Ian Toomey first stepped into a recording studio with Bitches Sin, the band he'd formed with his brother Peter when he'd come to the conclusion that no-one would ever really deliver the album that he wanted to hear. Almost thirty-five years to the day later the guitarist was back in the studio once more, working again with his long-term friends and collaborators Steve Turton (drums), David A Mills (vocals) and producer extraordinaire Chris Tsangarides. The result of these recordings is Toomey's second solo album 'Masters Of Light', a distinctive and cohesive set of songs which once again demonstrate the diversity of Toomey's musical point of view. As with his previous solo release 'Ascension', on 'Masters Of Light' Toomey has allowed himself to visit places musically that, to him at least, were previously uncharted. It's as if, no longer confined by the (possibly self-imposed) restrictions or expectations of writing purely within the confines of Bitches Sin, he's allowed himself to stretch out and from an almost iconoclastic viewpoint dictate a modern day rock (rather than metal) manifesto.
As with its predecessor, the album is painted from an expansive and expressive palette and it's in the album's diversity that lie its strengths and attractions. And whereas in the day job with Bitches Sin the songs in the main rolled up, hit you square between the eyes and left before you knew what was going on, 'Masters Of Light' appears to be an album that's more about the journey than the destination; there's a lot to take in, both lyrically and musically, and repeated plays offer up previously unnoticed nuggets. Unlike the majority of his work which is generally rehearsed to perfection before the 'recording' light goes on 'Masters…' was born in the studio, created from the coalescence of licks and jams bounced around by the three 'T's of Toomey, Turton and Tsangarides (who provided the bass) and then captured as live as possible, with Mills coming in later to add his distinctive and often elegiac vocals. Although cut from the same cloth as its predecessor, 'Masters Of Light' is a more broody, some might say almost malevolent, collection of work, and the songs are the perfect frame for lyrics which are in the main reflective and observational, although more outward looking than the highly introspective material on 'Ascension'.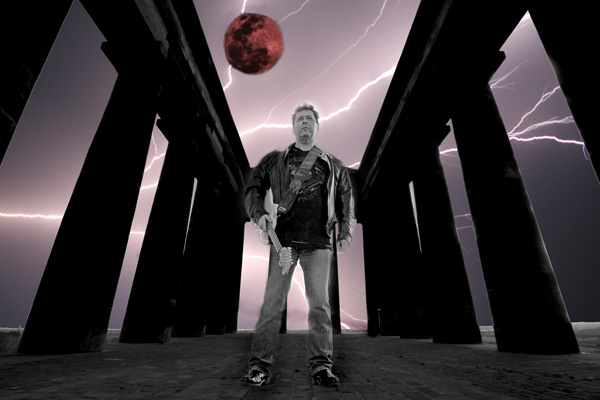 The songs themselves range from 'Underground', a punchy and attention-grabbing riff-driven metaphorical Molotov cocktail with police sirens and attitude aplenty, to the hugely contagious 'Only Words', an extremely catchy outing which underlies its tribute to Gary Moore and which years ago the majors would have banged out as a single (and for which, trivia fans, Tsangarides strapped on the guitar to contribute to the harmony run); or from the grinding riff of 'Devil's Chord' to the darker set closer (and, in truth, a song about love that spans the ages) 'Too Many Goodbyes', which features some irresistible guitar work, captured first take and imagined by Toomey as an homage to another fallen idol, the great Tommy Bolin.

No doubt there will be those who dismiss Toomey as a NWOBHM guitarist with a mid-life crisis, but his solo work continues to illustrate even to those with the most limited perception that he's clearly a guitarist with something of value to say and the perfect vehicle with which to shout it out loud. And although he has said a number of times that he feels that 'Masters Of Light' will be his final album, like the rest of us he must surely realise that the best things in life often come in threes…
© John Tucker October 2016