BLITZKRIEG – Judge Not! (Mighty Music)
Those who feel that NWOBHM musicians should sit in their care homes watching 'Cash In The Attic' rather than write and record new material need to buckle up and listen to 'Judge Not!'. Blitzkrieg's tenth studio outing is an absolute stormer from start to finish: no sleight of hand, no smoke and mirrors, 'Judge Not' serves up twelve cuts of classic British metal – nine on the LP, omitting the cover version, the ballad 'Without You' and, bizarrely, the title track, as well as the exclamation mark in the title – with neither fuss nor fillers.
Blitzkrieg was always a great name for an unashamed metal band, but given the way in which the opening double-whammy of 'Who Is Blind?' and 'Forever Is A Long Time' roll over any reservations listeners might have it's an extremely apt name, too. Everyone expects the spotlight to fall on vocalist Brian Ross, the only member of Blitzkrieg's original 1980 incarnation still making music, let alone helming the band, and in truth the man's voice can still switch from a whisper to a glass-shattering scream at a moment's notice. But behind him is a band of no mean talent. Twin guitarists Ken Johnson and Alan (chip off the old block) Ross lock 'n' load, soar 'n' dive, and riff 'n' solo like men possessed, bassist Huw Holding keeps things on the level, and from the way he thrashes his kit to within an inch of its life Matt Graham is making a bid for the award of hardest-working drummer in metal.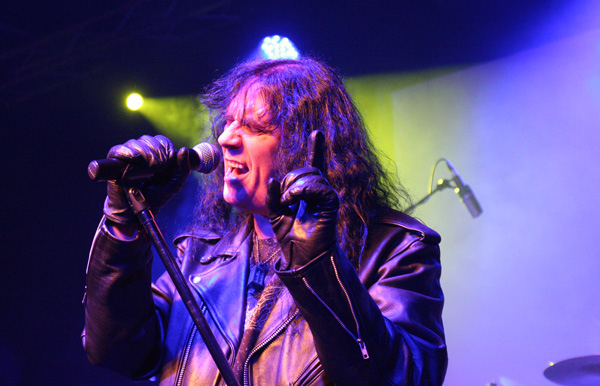 Influences abound, as, for example, in the commercial chugalong that is 'Loud And Proud', with its nod to prime-time Priest and good-time song-title lyrics, but having said that Ross was at the forefront of metal back in the day, leaving you to wonder who's actually influencing who. Lyrically he's never been a slouch, as the realm of themes on offer here reveal, and 'Falling Into Darkness' showcases itself as an obvious highlight both in terms of words and music. If you need to carp on about something, you can wonder why the band felt the need to include a cover of 'School's Out' on an album this good; and, to be fair, if you've indulged in the vinyl you're not going to lose any sleep in missing out on 'Without You'. Crank it up and enjoy: it doesn't get much better than this.
© John Tucker July 2018